We know that having yards filled with berry bushes and fruit trees can attract bears into in residential areas, putting wildlife and people at risk.
But did you also know that it is against the law to let fruits or berries accumulate to the point that it attracts dangerous wildlife? Or that you can't have a bird feeder outside between April 1 – November 30? Fines can range between $250 – $10,000. More details can be found in the bylaw here: https://canmore.ca/documents/bylaws/1558-wildlife-attractant-2017-10
In addition, many people are unaware that pet food and BBQs can also attract wildlife. Consider feeding your pets and storing pet food indoors. Keep your BBQ clean and take drip pans inside.
Visit www.wildsmart.ca for more information on living smart with wildlife.
Fruit Trees
By late August and September, bears have depleted the shepherdia berries and other native food sources in the valley bottom. As crabapples and other fruits begin to ripen on trees in Canmore, they attract bears to residential areas. Attracting bears to your yard can also result in opportunistic bears obtaining other human foods such as garbage and pet food.
If you have a fruit-bearing tree or shrubs, consider removing it. Fruit trees in residential areas of Canmore bring bears into the townsite.
If you can't remove the tree, it is your responsibility to remove the fruit as soon as it begins to ripen and bring it indoors or properly dispose of it. Bear-proof fruit collection bins are available at the Boulder Crescent Recycling Depot (115 Boulder Crescent) from late August until early November. The collected fruit will be composted. Fruit picking equipment can be borrowed from Wildsmart; please contact them at info@wildsmart.ca to make arrangements to borrow the equipment.
Shepherdia (Buffaloberry)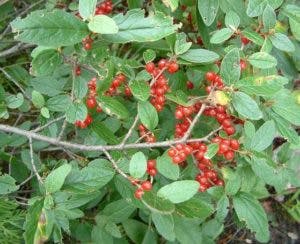 Shepherdia grows along the edges of open areas which often includes pathways, meadows, edges of residential areas, water bodies, and also can be present in our yards – essentially areas where humans live and play. In the Bow Valley the berry season usually runs from mid-July until the end of August. Bears are attracted to this plentiful shrub, and will eat tens of thousands of berries each day to store energy for their upcoming hibernation.
The Town of Canmore and Province of Alberta are trying to keep both the bears and residents safe by removing shepherdia bushes from high human-use areas. Some areas include Rundleview, Quarry Lake, Three Sisters Campground, Bow River Campground, and along trails in the Canmore Nordic Centre and at Grassi Lakes Trail.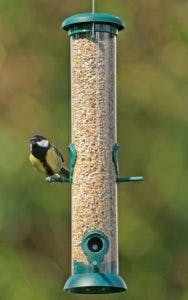 Many residences also have shepherdia growing in their backyards and gardens. These bushes become a prime attraction to bears especially in residential areas adjacent to the wildland fringe. Bears feeding in private yards create a public safety concern. Residents can be WildSmart by learning how to identify shepherdia bushes and removing them from their own property. For more information and to learn how to identify these plants, visit: www.wildsmart.ca
If bears still come to these areas to check for available foods, when they find that the food is not there, they will move to other areas where berries are more abundant.
Bird Feeders
Do not use bird feeders of any kind during bear season (April 1 to November 30). Outside of those months, we recommend suspending the bird feeder on a cable so that it can't be reached by any other wildlife and remember to clean the ground underneath.